Ertain 4
With high-quality finishes, it adapts easily to different installation needs and is the sliding door operator recommended for most facilities.
Advantages:
For heavy traffic situations.
Ultraquiet opening and closing.
Adaptable to all types of profiles.
More information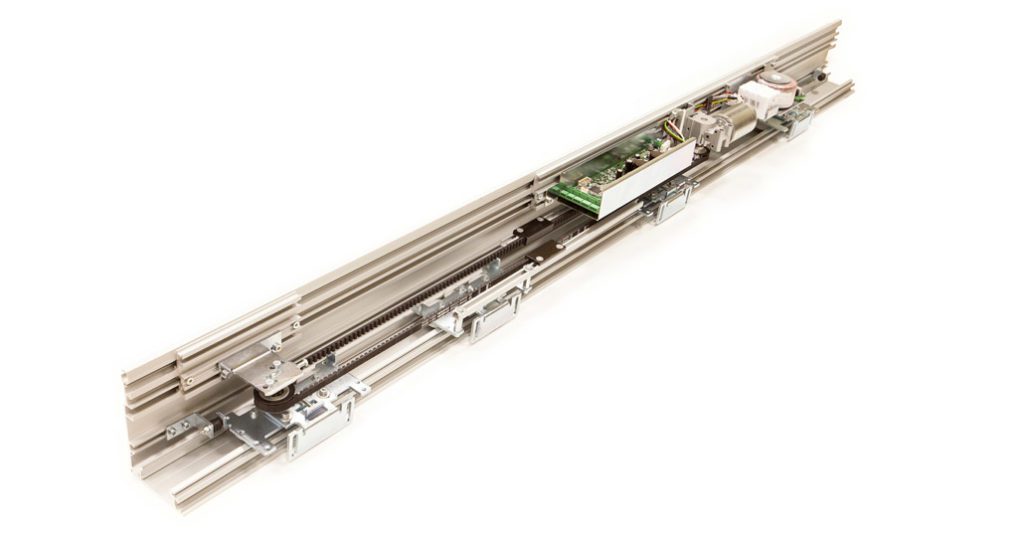 Ertain operator for glass doors
Dynamic stability. The ERTAIN sliding door is designed for heavy traffic in both large facilities (supermarkets, hotels, airports, hospitals, etc.) and also small- and medium-sized businesses (offices, pharmacies, restaurants, sales points, etc.).
The most outstanding features are its ultraquiet opening and closing movement, its dynamic stability, and its straightforward, quick installation.
Technical characteristics
Quick, easy assembly of the operator on the box profile thanks to a special nut system.
Adaptable to all types of profiles up to 50 mm wide.
Highly robust trolleys made up of three nylon wheels guided between rails, thus ensuring safety and preventing any derailment.
Very straightforward maintenance thanks to the simplicity of the mechanism.
Option to connect to PC for centralised door control or for programming.
Battery-powered anti-panic system in the event of power failure.
Motor power control system with automatic reversal for user safety.
Downloads
Technical manual
User manual ERTAIN

Installation manual ERTAIN
Other downloads
Presentation ERTAIN

Spare parts list ERTAIN
Are you a registered user?
Log in with your credentials and download all the content.