Why ERREKA
ERREKA Accesos Automáticos counts on a highly qualified, nearby, fast, efficient team.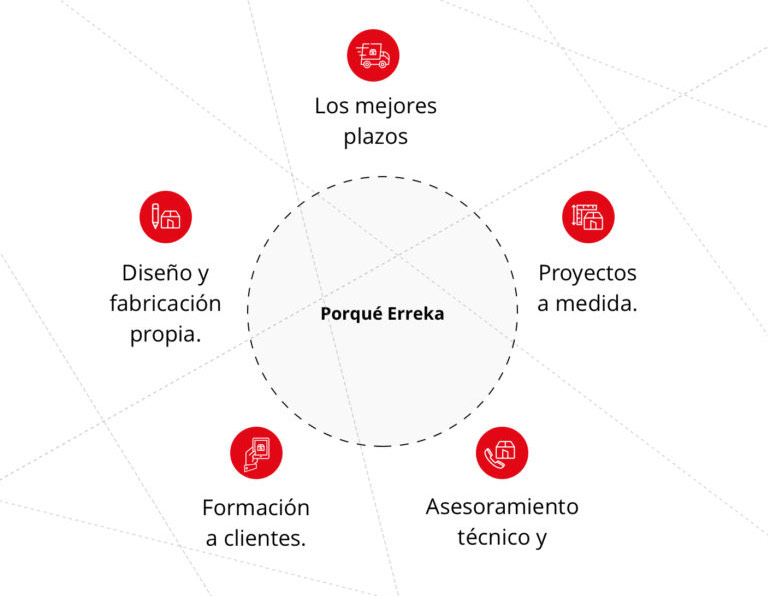 Design and manufacture
We design and manufacture most of the products in our catalogue.

Technical assistance
We have a highly qualified technical assistance team, offering customers a direct, personal consultancy service via our sales offices, as well as a breakdown service which looks to repair any faults within 2 days.

Delivery times
At ERREKA we work to offer the best delivery times on the market. SPEED AND EFFICIENCY.
Our network of sales offices means we can offer delivery within 24 hours. Our service guarantee ensures delivery within 3 weeks in all countries where we do not have a sales office.

Bespoke projects
We know that customers often have special needs not adequately covered by standard products available on the market.
We achieve this thanks to a competent technical team focused on providing the best possible technical response and on helping customers ensure their projects are viable.
ERREKA has extensive experience and tradition in these types of challenges. Show us your project and we'll work on finding the best solution.

Customer training
At ERREKA we believe ongoing training for our customers is key to guaranteeing an excellent consumer service for our products, thus ensuring proper operation and safety.
We provide all our customers with the human resources necessary for bespoke training both domestically and overseas.