X-ray room doors
X-ray room doors require a special additional process when it comes to manufacturing medical room doors. Their special lead lining guarantees sealing and protection against radiation.
Advantages:
Insulation thanks to its lead sheet.
The entire door assembly is designed to ensure safety.
More information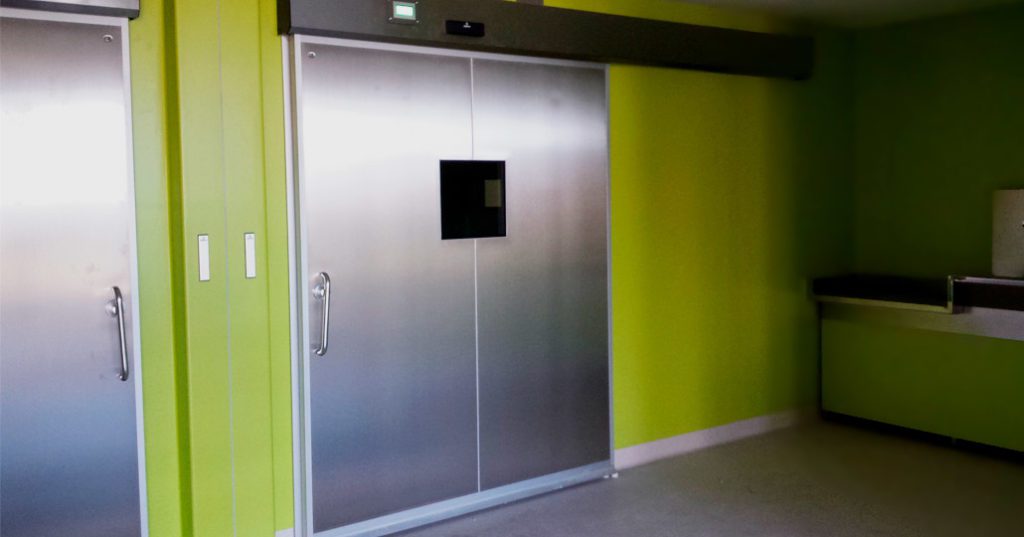 Our anti-radiation doors are designed to insulate areas with high  radiation, such as, for example, critical areas in hospitals and laboratories. The latest technological advances allow us to achieve higher leaded levels and thickness. Up to 3mm and with possibilities of leading on both sides, both the leaves, the frames and the spyholes, protection against radiation is guaranteed with our tried and tested solutions according to the most demanding standards.
Technical characteristics
50mm thick panel, in stainless steel with an ecological plant fibre core.
With 1mm or 2mm leaded panel.
We offer hermetic (with drop closing) and semi-hermetic solutions.
Rubber seals for closing.
System of stainless steel frames that cover the entire interior gap of the door.
Viewer: with the possibility of supplying the door with different types of spyholes; round, square, rectangular and triangular.
Handle: fitted inside and outside, made of stainless steel.
Maximum door weight: 160 kg (1 leaf) or 120kg + 120kg (2 leaves).
Maximum free passage (1 leaf) 1500 mm.
Maximum free passage (2 leaves) 3000 mm.
Minimum leaf width (1 leaf) 750 mm.
Downloads
Are you a registered user?
Log in with your credentials and download all the content.