Telescopic
Its design and easy assembly differentiate it from the other products, making it suitable for reduced spaces, where maximum opening is paramount.
Advantages:
Safety and reliability.
Speed up to 1m/s in opening.
Ultraquiet movement.
More information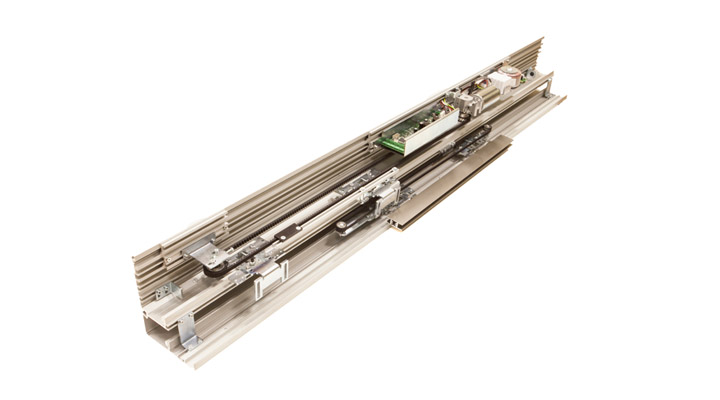 Its versatility allows the operator to adapt the system for 2 or 4 leaves, different passage widths, or to select opening direction.
The TELESCOPIC is an operator based on the Global 4 operator. What differentiates one from the other is the part of fittings and profiles, since the motorization is identical. The main feature of this operator is that it allows two leaves to be moved to the same side in parallel and, in the case of the need for large free passages, to motorize up to 4 mobile leaves.
Those with 2 leaves are recommended for shops, interior doors in corridors, offices, etc. Four leaves ones allow large accesses and are usually placed in vehicle shows, shops, hotels, etc.
The motorization set is grouped into a 870mm long profile and includes the three subsets that make it up: gearmotor, electronic board and power supply subassembly. It adapts to any door size using the belt to be cut to size and a sub-drive pulley subassembly with built-in tensioner.
To the motorization set, an electric lock can be added as an accessory to lock the door in the closed position and prevent manual opening of the leaves.
To configure the door in its installation and commissioning, the digital selector DIG-SEL01 is required. Once configured, either the digital selector or the rotary key selector ROT SEL 01 can be left for your control.
The operator is designed to comply with the European standard EN 16005 that provides user safety, since it has electronic systems that prevent entrapment and ensure the correct operation of all its sensors.
Technical characteristics
Motor power: *****
Free passage (2 leaves): 1800-3800mm.
Maximum leaf weight: 200kg.
Dimensions: 170x235mm.
Quick installation system of the operator to the box profile.
Speed ​​division system by means of a double pulley with a neoprene toothed belt.
Possibility of double door installation with exclusive system.
Motor force control system with automatic inversion for the safety of users.
In case of power failure, antipanic mode system available.
Downloads
Technical manual
Installation manual TELESCOPIC
Other downloads
User manual operator TELESCOPIC

Spare parts list TELESCOPIC
Are you a registered user?
Log in with your credentials and download all the content.