Pinza
PINZA model attributes to the entrances the maximum elegance and visibility of the interior.
Advantages:
Maximum elegance.
Interior visibility.
More information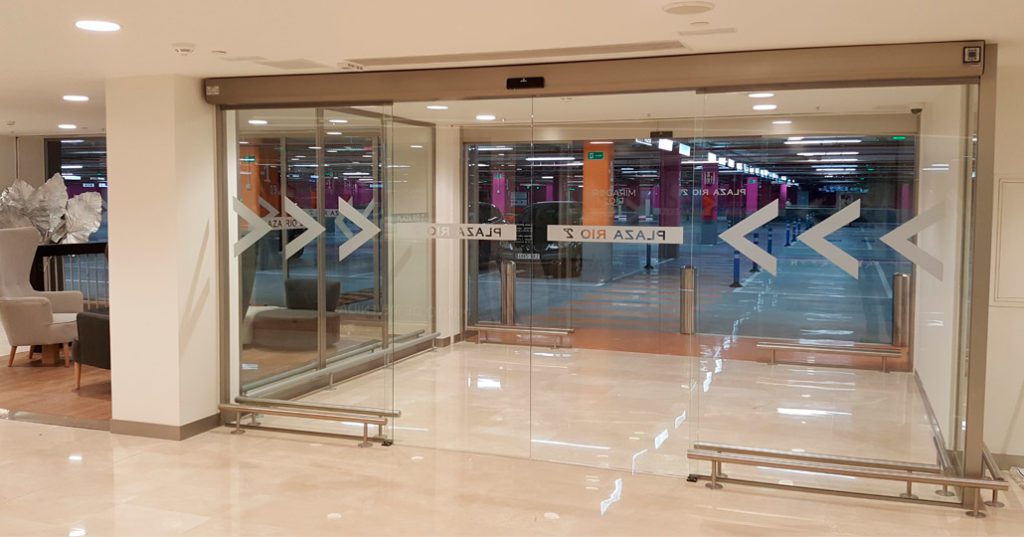 PINZA profile is aimed at doors where aesthetics should avoid profiles. This model is ideal for interior entrances and especially for offices. This type of finish can be installed in two different ways:
The leaves are made up of glass with two extruded aluminum profiles, one at the top and the other at the bottom with the sides without vertical profiles.
The leaves are made up of glass with an extruded aluminum profile on the upper side and vertical side and the lower part being frameless glass.
It allows the installation of glasses from 4 + 4mm to 6 + 6mm and the fixing is made with special silicone. The frame has a special denture so that the fixing of the glass is adequate. It is provided with a plastic cover specially designed to soften the meeting between leaves, leaving a small space that avoids the collision between glasses and embellishing the cut of the clamp.
Technical characteristics
Simple installation.
Frame width: 50x20mm.
Airtight integrity:**
Safety:*
Lacquered: all RAL colors.
Anodized: silver, bronze, black, matt gold, titanium and special anodized.
Stainless: 304 quality, 316 in satin, gloss and frosted.
Blade height max 2800mm with a top and bottom frame.
Blade height max 2500mm with a top frame and full glass at the bottom.
Max moving blade width 500-1,500mm.
Glass thickness from 8 to 12mm.
Overlap 50mm.
Extruded profile according to EN 755 and 573 in 6063 alloy under ISO 9002 certification.
Glass fixing by using special silicone.
Silicone gaskets to improve sealing.
Downloads
Other downloads
Memory of architects of the PINZA profiling

Profile plan PINZA Ertain 2+2 (dwg)

Profile plan PINZA Ertain 1+1 (pdf)

Profile plan PINZA Ertain 1+1 (dwg)

Profile plan PINZA Global 2+2 (pdf)

Plano de la perfilería PINZA Global 2+2 (dwg)

Profile plan PINZA Telescopic 2+1 (pdf)

Profile plan PINZA Telescopic 2+1 (dwg)

Spare parts list PINZA
Are you a registered user?
Log in with your credentials and download all the content.